EASY TO CUSTOMIZE
The large touch screen and management software allow OneLaundry to be adapted to all needs. Also being a product entirely designed and made in Italy, it is easy to customize.
EASY TO MANAGE
Fully configurable both from the machine, thanks to the touch display, and from the web, it is easy to set up and manage.
EASY TO USE
Simple and essential, it can be used by everyone with extreme ease. The voice-operated assistant makes it even easier to use.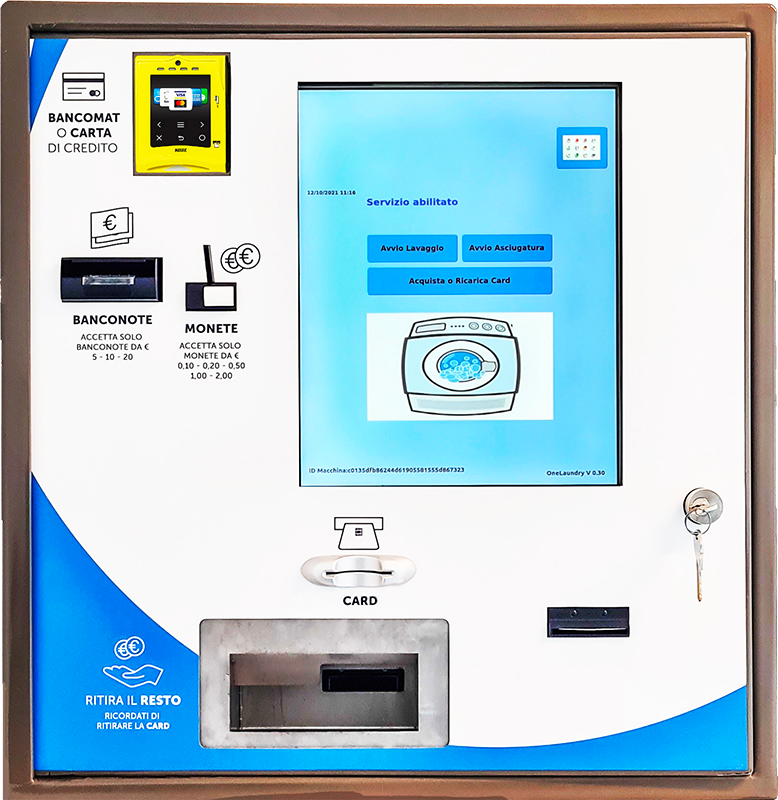 How it works
Microtech Srl's OneLaundry cash register is a cash register for self laundry management. It uses state-of-the-art, high-quality components to offer the best in terms of performance and reliability. With its 17′ display, it allows easy management for users and operators. It is possible to pay for the service via bills, coins, fidelity cards and POS. Thanks to the remote management system, it is possible for operators to have full control of the machine even remotely. It is enabled to send receipts and is Industry 4.0 ready.
Contact us to get a quote right away.
Contact us
Main Features
Linux Based Industrial PC
Microtech OEM board for real-time control of peripherals;
Bill intake compatible with all denominations;
Coin intake;
Coin change disbursement with discriminator hopper;
RFID card reader;
Possibility of card purchase via RFID card dispenser;
17″ display with touch screen capacity;
Activation of the selected machine with detection of the function of busy through special "Microtech Laundry I/O" I/O module. The set includes No. 2 Laundry I/O of 4 inputs and 4 outputs each to connect up to 8 washing machines or dryers. Up to 10 "Microtech Laundry I/O" can be used;
(optional) payment system with POS or Nayax credit card Vpos;
Peripheral status check management and error indication;
Connection to internet via LAN or WiFi• RFID card reader;
Card activation and credit recharge function on card;
Sends receipts to the tax agency;
Industry 4.0 ready;
Web-based remote management platform.
All features of OneLaundry with additional
19″ touch display;
Interface for managing vending machines;
Change in notes up to two different cuts;
"Plus" graphical interface.